In December 2022, Docker's Guild released 12 videos in support of their new album "The Mystic Technocracy - Season 2: The Age of Ignorance", in addition to a fully illustrated storybook, for a true multimedia experience. 
Docker's Guild is now very proud to announce the Docker's Guild Video Contest 2023, which will last from January 10 to March 15, 2023, with amazing prizes for the first five people that will answer the questions correctly!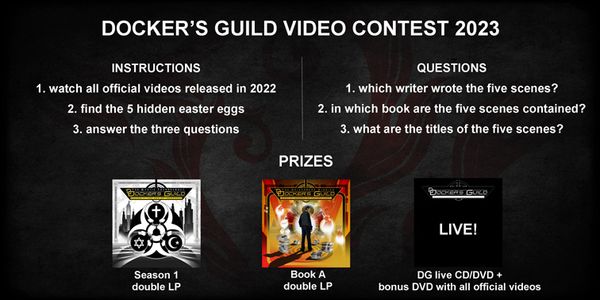 INSTRUCTIONS: 
1. Watch the 12 official videos released between May and December 2022 (https://www.youtube.com/dockersguild) 
2. Find the five hidden Easter eggs (you have to watch the videos from start to finish to get the correct info) 
3. Answer the following three questions precisely 
QUESTIONS 
1. Which writer wrote the five scenes? 
2. In which book are the five scenes contained? 
3. What are the titles of the five scenes? 
PRIZES 
1. "Season 1" album in double LP format 
2. "Book A" album in double LP format + bonus tracks 
3. Docker's Guild live CD + DVD + bonus DVD with all official videos 
4. Surprise gift! 
Enjoy watching the videos, do your research and good luck!